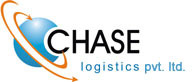 About Us
Chase Logistics Pvt Ltd., a Single Window Total Logistics Service Provider registered in Ahmedabad, India. Our company itself describes our Global Agent network, established with an aim for chasing / creating a different world of opportunities in the shipping trade by catering our services for Sea Shipments such as Full Container Load of TEUs & FEUs of GP as well as special equipments i.e. Open Top, Flat Rack, Flat Bed etc, Less Than Container Load, ODC & Project Shipments, Break Bulk Shipments and especially Air Freight and Air Consolidation with Custom Clearance facilities at all Sea Ports & Air Ports to our valued customers for their Export & Import.
We are having our valued potential Customers who are Manufacturer or Merchant Exporter of Pharmaceutical & Healthcare Products, Engineering Heavy Goods, ODC Machineries / Equipments / Spares – Part , Dyes & Chemicals etc who regularly Exports and Imports Globally, basically to & from African Countries such as Nigeria, Benin, Uganda, Tanzania, Kenya, Mozambique, DRC, Ethiopia and other West African countries, China, Malaysia, Indonesia, CIS & Latin American Countries and so on associated with us since long. Our expertise and main focus / trust lies in services for updating of Pre & Post shipments activities of all Export shipments of Pharmaceutical & Healthcare Products as we are backed with efficient well products conversant and its documentation team.
Our company is teamed up with all kind of trained staff having thorough know-how of each commodity / subject and act with full confidence dedication and commitments to provide the perfect services to gain/meet customer satisfaction / recognition / confidence thereby building up long term business relationship / partnership with Customers as well as from Business Partners / associates.